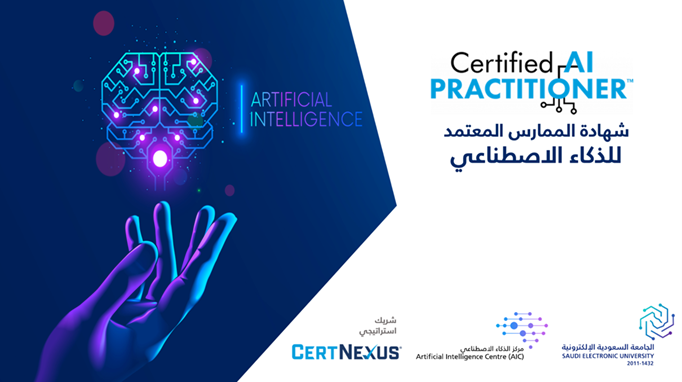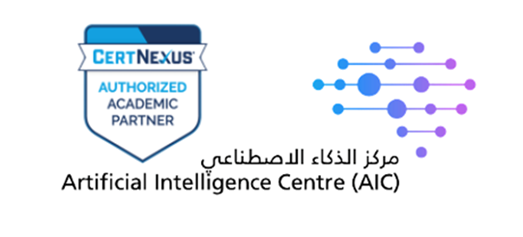 Artificial intelligence and machine learning have become an essential part of supporting digital transformation. These technologies help automate processes, improve decision-making, and enable organizations to create new and innovative products and services. Therefore, it is important to advance the digital transformation process by developing the capabilities of national cadres in the field of artificial intelligence in line with the requirements of the future labour market. Through the training program for the Certified Artificial Intelligence Practitioner Certificate, the trainee will learn how to apply different algorithms and provide solutions through artificial intelligence and machine learning, follow a systematic way of working to develop sound solutions, and use open-source tools ready to work to develop, test and publish these solutions and ensure that they protect user privacy.
Program Takeaway
Target Students
The skills covered in this course converge on three areas—software development, applied math and statistics, and business analysis. Target students for this course may be strong in one or two or these of these areas and looking to round out their skills in the other areas so they can apply artificial intelligence (AI) systems, particularly machine learning models, to business problems. So, the target student may be a programmer looking to develop additional skills to apply machine learning algorithms to business problems, or a data analyst who already has strong skills in applying math and statistics to business problems but is looking to develop technology skills related to machine learning.
A typical student in this course should have several years of experience with computing technology, including some aptitude in computer programming.
This course is also designed to assist students in preparing for the CertNexus® Certified Artificial Intelligence (AI) Practitioner (Exam AIP-110) certification.
Training Features
Obtaining 20 hours of intensive training distance training.
Making the program content available to the trainee for life, and the practical training content for a period of six months.
Take the AIP-110 Certified Artificial Intelligence Practitioner exam at no additional fee
Obtaining a daily office hour for a week to prepare for the test.
Obtaining a training completion certificate after attending the program.
Training Plan
| | |
| --- | --- |
| Registration | 14 June - 28 July 2022 |
| Training | 14- 18 August 2022 |
| Office Hours | 21 - 25 August 2022 |
| Exam Period | 26 August - 9 September 2022 |

Program Overview
Session topics

5:00 PM – 9:00 PM

*There is a rest break

Day 1

Solving Business Problems Using AI and ML.
Collecting and Refining the Dataset.
Setting Up and Training a Model.

Day 2

Finalizing a Model.
Building Linear Regression and Classification Models.

Day 3




Building clustering Models.
Build advanced Models.

Day 4

Building Support-Vector Machines.
Building Artificial Neural Networks.

Day 5

Promoting Data Privacy and Ethical Practices.
Mapping Course Content to CertNexus® Certified Artificial Intelligence (AI) Practitioner (Exam AIP-100).
More details about the training program can be found HRER.
Course Objectives
In this course, you will implement AI techniques in order to solve business problems. You will:
Specify a general approach to solve a given business problem that uses applied AI and ML.
Collect and refine a dataset to prepare it for training and testing.
Train and tune a machine learning model.
Finalize a machine learning model and present the results to the appropriate audience.
Build linear regression models.
Build classification models.
Build clustering models.
Build decision trees and random forests.
Build support-vector machines (SVMs).
Build artificial neural networks (ANNs).
Promote data privacy and ethical practices within AI and ML projects.
Registration Terms
Good knowledge of basic AI concepts such as machine learning, neural networks, computer vision and natural language processing.
Experience working with databases and programming languages ​​such as Python, Java, or C/C++.
Having good English language as the training will be in English.
Notes:
You must ensure that the full program fees are paid, bearing in mind that the university is not responsible if the payment process is refused or returned from the bank.
The amount paid is non-refundable after the registration period ends.
If you wish to refund the registration fee before the end of the registration period, please contact us via e-mail: aicenter@seu.edu.sa
Before the program starts, you will be contacted and provided with a link to enter the virtual platform.
If the minimum number of trainees is not completed, the registration period will be extended, and accordingly the previously announced training time will change.
Registration
Registration Fees

5,625 SR

Individuals

Click here

Private and Government Entities

To complete the registration process, please contact the Artificial Intelligence Center via e-mail

aicenter@seu.edu.sa
The deadline for registration is 12AM on Thursday, July 28, 2022.