Awareness Seminar: "Be Aware" About the Effects of Drugs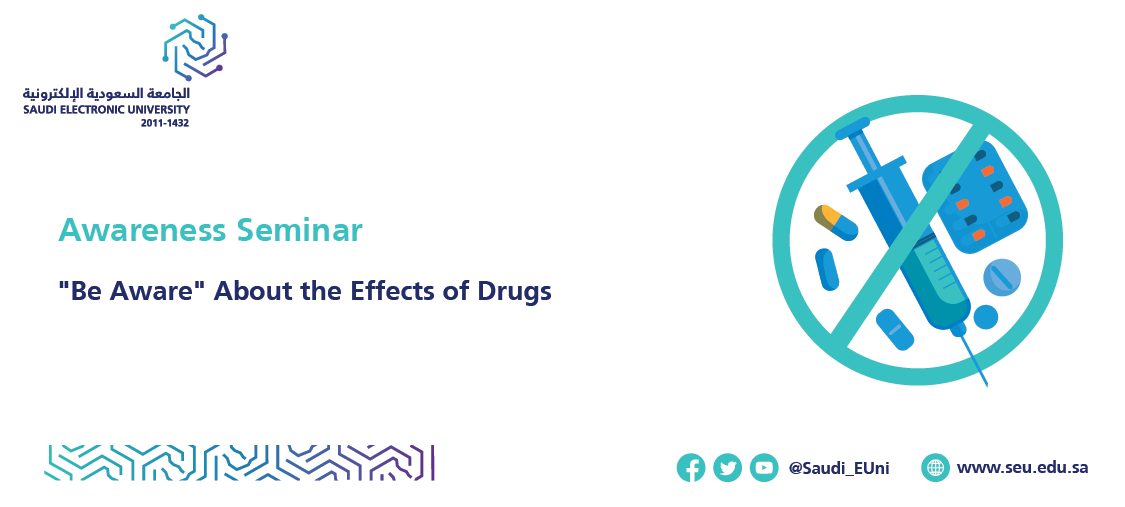 The Deanship of Admissions and Student Affairs is pleased to invite you to attend an awareness seminar entitled: Be Aware
on Wednesday, November 15, 2023 from 1:00 PM until 2:30 PM.
Speakers:
1- Dr. Hoda Al-Muhanna, Family physician and head of the Mental Health Promotion Committee
2- Dr. Muhammad Mashour Hamdi, Associate Professor of Islamic Culture, College of Science and Theoretical Studies
3- Dr. Amani Othman, Assistant Professor of Public Health at the College of Health Sciences
4- Dr. Abdullah Al-Marshoud, Assistant Professor of Law
5- Dr. Dania Al-Dailami, Assistant Professor, Public Health, College of Health Sciences
6- Seminar moderator Dr. Khaled Shaban, Vice Dean for Student Affairs at the Deanship of Admission and Students Affairs, An Assistant Professor at the College of Computing and Informatics
7- Mr. Sultan Al-Nefaie, Symposium Supervisor - Student Affairs.
Topics:
1- The health and psychological impact of drugs
2- The ruling of Islamic law on drugs, their use and their promotion
3- The social impact of drugs
4- The legal aspect of drug users and drug dealers
5- The academic impact, the impact of student drug dealers and addicts in achieving the academic path on the university student
Notes:
This course is offered to all Saudi Electronic University students. Certificates of attendance will be granted.
This course will be delivered virtually via Webex through the link HERE.