Academic Jobs for Saudis on Faculty Members Annual Contracts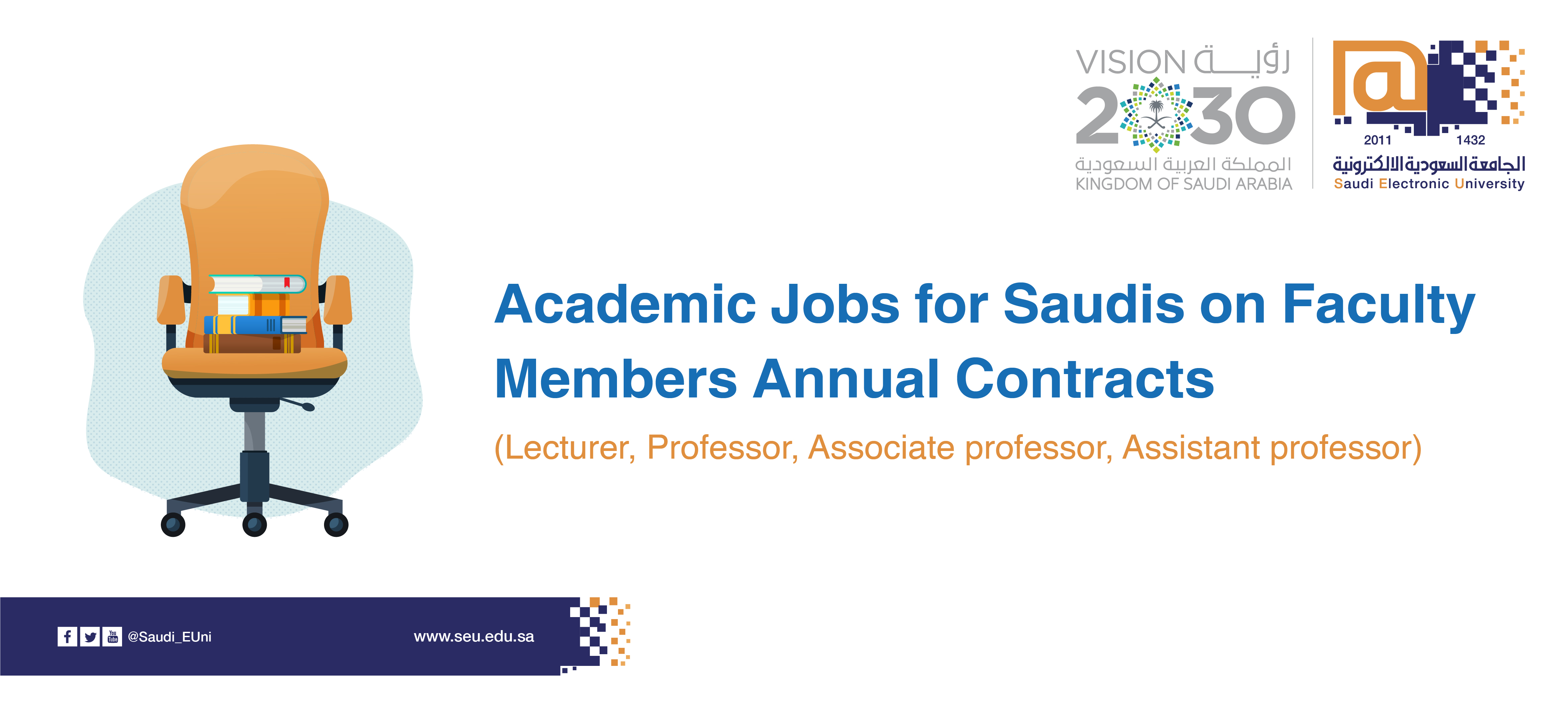 The Saudi Electronic University announces: The availability for jobs on Faculty Members annual contracts for Saudis (Lecturer, Professor, Associate professor, Assistant professor), at the different​ branches and colleges of the University under the following conditions:​
Terms and conditions:
A Saudi nationality is required.
Full time jobs.
Must have a degree from an accredited university.
The Ministry of Education must certify the certificate (if the degree is from abroad).
The certificate must be (full time) at all levels of education.
Applicants for Health Science College must be classified from the Saudi Commission for Health Specialties, in one of public health or health informatics fields.
Applicants must have the same track in all levels (bachelor's, master's, and PhD) degrees (except the College of Health Sciences).

*Bachelor's degree must graduates from one of the health sciences fields.

The applicant to the (Arabic Language) in Humanities department must hold a qualification in the specialty of grammar.
Applicants study must be in English or has (6.0) in IELTS or equivalent degree in English language proficiency test (STEP).

*not exceeding two years (excluding Electronic Media and Humanities department)

Applicants must pass the personal interview and the tests conducted by the scientific section.
Applications that do not meet the application requirements

will not be considered or answered.
Notes:
Applicants can apply to the announced positions only to one branch of the university and not all branches.
These positions are subject to competition within each branch and cannot be transferred to another branch.
The response will be within two months from the date of the interview. 
​
To view the available specialties​ (Click here).
* Applications will be open from Sunday 3\2\1442 AH - 20/9/2020 AD, and ending on Thursday 14\2\1442 AH - 1\10\2020 AD at 2:00 pm.​
Applications are received online only through the SEU portal on the university website (Click here).