Applying for Publication Rewards and Publication Fee Reimbursement for the academic year 2022 / 2023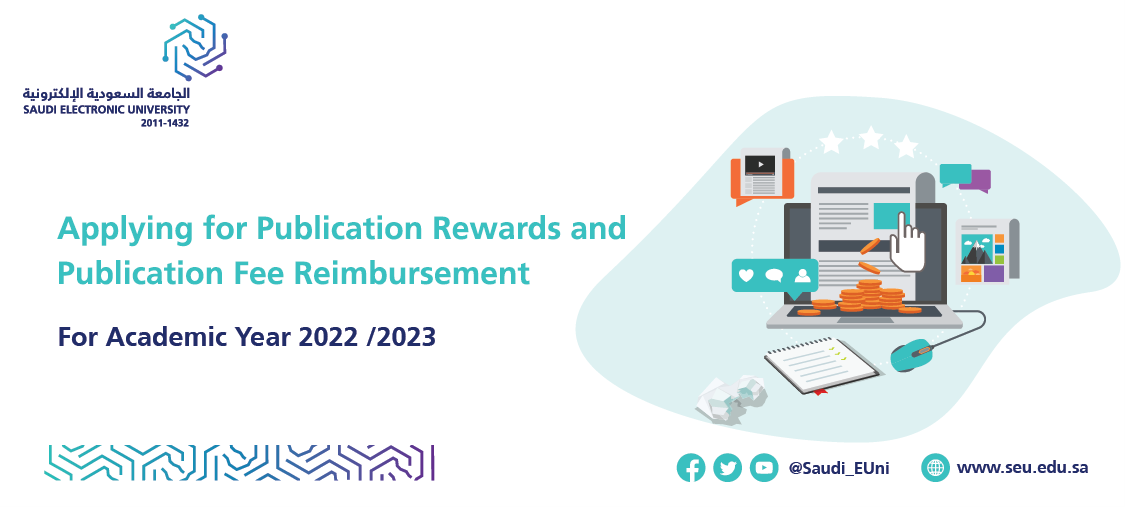 The Deanship of Scientific Research is pleased to announce the opening of applications for publication rewards and publication fee reimbursement for the academic year 2022/2023.
Starts on Thursday, July 14, 2022, until Friday, May 5, 2023.
Terms for publication rewards and publication fee reimbursement
The Applicant must be a Saudi electronic university faculty member.
The applicant for the publishing reward submits through the Portal of the Deanship of Scientific Research (

rtms.seu.edu.sa

).
The researcher should refer in the published scientific paper to his affiliation to the Saudi Electronic University.
The request should be submitted within the announced date each semester.
The research paper should not be supported or funded by the Saudi Electronic University.
The research paper must be published in well-established national journals or a world-class magazine on the (incites. clarivate -Scopus) list.
The applicant must provide a full printed copy of the published search and an electronic version in PDF format.
The duration of the publication of the research should not exceed two years from the date of submission.
In case the research paper shared by more than one faculty member at the university, the request should be submitted by the advanced researcher in order: (the request submitted from the first researcher, in case the faculty member from the university is not submitted from the second researcher, third, fourth, ...) and so on.
The researcher must be registered with Google Scholar.
Only First Author and Corresponding Author can apply for publication fees reimbursement.