An Invitation to Attend a Session in: How to Promote Your Capabilities in Social Media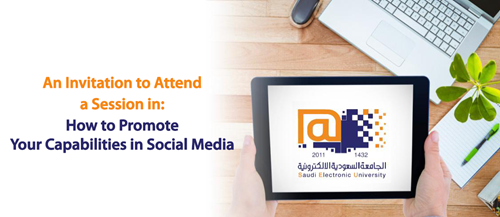 The Deanship of Admission and Student Affairs invites you to attend a session in: "How to promote your capabilities in social media".
Provided by Dr. Noha Abdullah Al-Awaidi, Head of the Department of English Language and Translation at College of Science and Theoretical Studies​.
The session will be held on Saturday 22 February 2020, from 12:30 PM to 2:30 PM.
Topics:
- What to say and not to say on social media.
- Define your identity.
- Focus your writing on a specific skill or talent.
- Use magical words to attract your audience.
Notes:
-This session will be offered to all male and female students of the Saudi Electronic University.
-The session will be directly virtual via (Blackboard), to attend the course (Click here).
We wish you success and prosperity
The Deanship of Admissions and Student Affairs