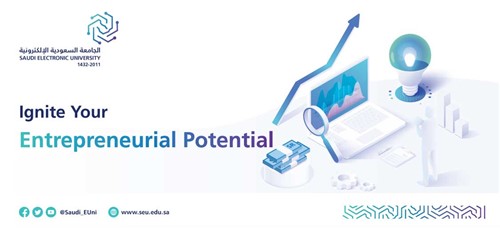 The Saudi Electronic University, as an educational institution incubating emerging entrepreneurs, is keen to provide an educational environment to stimulate entrepreneurial to encourage students and faculty members to innovate ideas and produce unique projects.
Under the patronage of her excellency the University president, prof. Lailac Alsafadi, the University offers "Ignite Your Entrepreneurial Potential " which is an awareness program on entrepreneurship. The program includes a series of seminars and workshops on important topics in innovation and entrepreneurship, presented by experts and specialists in the field. The program targets students and faculty members at all Saudi universities to contribute to the exchange of knowledge and experiences in entrepreneurship and innovation, and to create opportunities for entrepreneurship and creating new innovative projects.
Register now by clicking HERE before the end of Thursday 1st of June 2023
Subscription is available to students or recent graduates and faculty members in Saudi universities.
The program will be presented virtually online, and participants are obligated to use the same registration data to ensure obtaining attendance certificates at the end.
Day 1 – Friday 2nd of June 2023

4-5 PM

Entrepreneurship at Saudi Universities

Prof. Ahmed Al-Shamimary

Chairman of the Entrepreneurship Association Council at King Saud University

General Supervisor of Al-Shamimary Academy for Entrepreneurship

5-6 PM

Innovation in Academic Institutions

Dr. Huda Alfardus

CEO of HealthGena, A startup incubator and business accelerator

6:30-7:30 PM

Attracting funds for your startup

Dr. Dalal Alrubaishi

Academic and researcher in entrepreneurship and family businesses

Day 2 – Saturday 3rd of June 2023

Session Link

4-5 PM

Torood Story

Eng. Faisal Al-Muklus

CEO & Founder of Torood Platform

5-6 PM

Innovation or Monotony

Ms. Nada ALMutairi

EdTech Development expert, Director of the Innovation Lab at the King Salman International Institute for the Arabic Language

6:30-7:30 PM

Activating the Entrepreneurial Mindset

Prof. Haya Al-Dajani

Professor of Entrepreneurship and Director of the EMBA Signature Learning Experience at the Mohammed Bin Salman College of Business and Entrepreneurship