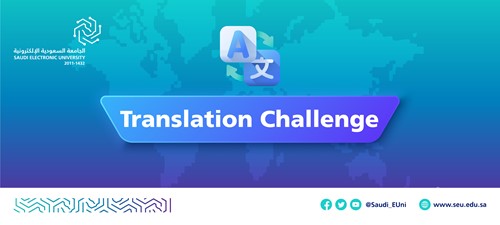 In efforts to contribute to the community through holding activities and events, the Vice Presidency for Student Affairs represented by the Translation Center holds "The Translation Challenge", under the patronage of Her Excellency Prof. Lilac Alsafadi, President of the University. The challenge will provide the chance for professionals and people interested in translation to practice translation in a competitive atmosphere where they can sharpen their skills via training workshops and showcase their talent to win prizes.
Objectives
- Serve the fields of translation, literature and culture.
- Provide an opportunity for distinguished translators to sharpen their skills.
- Offer the chance for the individuals specialized or interested in translation to practice the skill.
Prizes
- First place: 10,000 thousand Saudi Riyals.
- Second place: 7,000 thousand Saudi Riyals.
- Third place: 5,000 thousand Saudi  Riyals.
Notes
- Registration Link, HERE.
- For more information and inquiries, kindly contact the Translation Center: translation@seu.edu.sa
Participation is available for male and female students in Saudi universities, whether current students or fresh graduates, who have interest, experience and knowledge in translation and translation assisting technologies.
Candidates are committed to the following:

Take a quiz to qualify for attending the workshops.
Attend online workshops.
Submit translation tasks on time.

Agree to attend the Saudi Electronic University headquarter in Riyadh if nominated for the final live challenge.

The University undertakes the travelling expenses for those outside Riyadh.
After registration, candidates will take a multiple-choice quiz, which will be corrected automatically.
Candidates will attend three workshops, and each workshop will end with a short translation quiz, which the reviewers will evaluate and nominate the top 10 candidates.
Nominees will attend the final live challenge at the Saudi Electronic University headquarters in Riyadh to compete for the first three place.
Winners of the first three places are announced at the final ceremony.
Action

Date

Time

Announcement and registration

February 8 - March 5

-

Send a quiz to the candidates after closing registration

March 6 - March 7

8:00 AM - 8:00 AM (the next day)

First Workshop

Pass the 1st task

March 9

6:00 PM - 9:00 PM

Second Workshop

Pass the 2nd task 

March 10

6:00 PM - 9:00 PM

Second Workshop

Pass the 3rd task 

March 11

6:00 PM - 9:00 PM

Announce the nominees for the final live challenge

March 16

 

Final challenge

March 19

5:00 PM - 6:30 PM

Announce the winners

March 19

8:40 PM - 9:00 PM